The cream of South Australia's medical profession has been brought to life by two local artists in a specially commissioned art show celebrating the 125th anniversary of the University of Adelaide's Medical School.
Fifty-nine portraits of the State's best known medical personnel will be on display in Bonython Hall for four days from 30 August, thanks to the work of Avril Thomas and Meg Brassil.
The two artists have spent the past 12 months working around the clock, painting high-profile South Australians who have made a major contribution to medicine and health in this State.
A Day in the Life of Medicine includes:
Dr Basil Hetzel AC, a medical researcher and University of Adelaide graduate who has made a major contribution to combating iodine deficiency worldwide;
Associate Professor Bill Griggs AM, a trauma specialist at the Royal Adelaide Hospital, 2009 South Australian of the Year, and inventor of the Griggs Technique for tracheotomies, a technique now used worldwide;
Professor Villis Marshall AC, internationally recognised urologist, prostate cancer specialist and kidney disease researcher;
Professor Dorothy Keefe, Clinical Director of the Royal Adelaide Hospital Cancer Centre who specialises in mucositis, the oral and gastrointestinal tract damage following chemotherapy and radiotherapy.
The remaining 55 portraits cover subjects from a wide range of specialties and eras, including the co-founder of the University of Adelaide's Medical Program in 1885, Sir Joseph Verco, who was recognised as the leading physician in Adelaide in the late 1800s.
See the portraits in this exhibition painted and drawn by Avril Thomas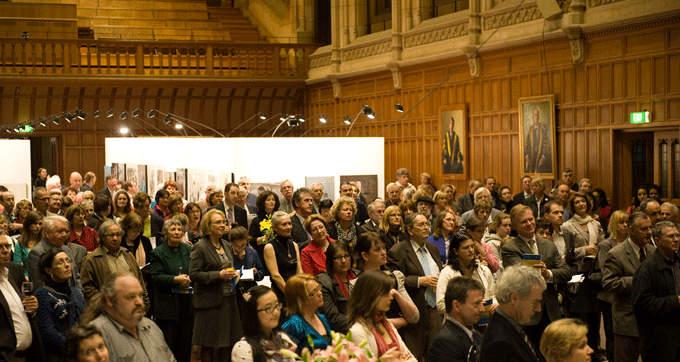 Avril Thomas, an Adelaide Artist who specializes in portraiture, landscapes and still life in a tonal realism style. Her original paintings and drawings are in private and corporate collections round Australia, Hong Kong and USA. Eg National Portrait Gallery – Canberra, Monash University, Flinders University and more.  She has exhibited in National and International exhibitions. A prize-winning artist.
She also has an extensive portfolio of Abstract Art.
Her Art Studio and Art Gallery is at Magpie Springs Winery and Art Gallery South of Adelaide on the Fleurieu Peninsula near McLaren Vale and Willunga open Sat and Sun 11 – 5.  If your interested in purchasing a book with the whole collection its available at Magpie Springs.