Portrait commission information
Avril commission work is primarily from photographs, this avoids the inconvenience and expense associated with long posed sittings. She prefers to take her own photographs since her needs for composition and lighting are rarely met through commercial studio photography or personal photography.
Her work usually incorporates elements which tells of the subject, including background and setting
For posthumous portraits, Avril will work with you to select an appropriate photo reference. A portrait is a collaboration between artist and patron.
Clothing choice is up to the model however Avril does ask that unless the lighting is exceptional not to wear dark clothing as descriptive folds, curves and shapes are usually lost. During the first sitting a colour check is done with pastels.
At the first sitting, size and medium will be discussed and therefore the price. Paintings or drawings are priced without the frame. The price is based on the following factors, the number of people or pets in the painting; the size of the actual painting itself; the intricacy of clothing, jewellery and props and the complexity of the background setting.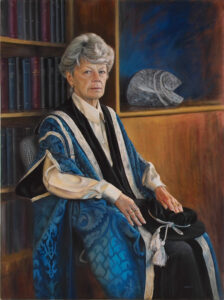 Commission pricing:
Oil on canvas
(examples of approximate pricing to be expected)
61cm x 76cm – $5,000 to
1200cm x 1800cm – $30,000 for one subject
Pastel – $1,500 to $6,000
Charcoal/graphite – $ 1,000 to $5,000
10% of the fee is expected as a deposit or booking fee.
These ranges may appear quite large, but to successfully communicate the personality of the sitter, pieces of relevance to the life of the sitter are encouraged to be included in the image. Discussing these things gives Avril a chance to get a feel for the sitter and therefore discover how the composition will be.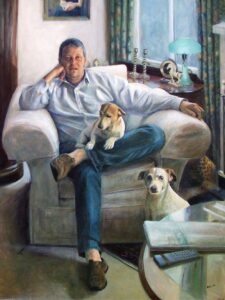 Framing, shipping and travel expenses for the artist are the responsibility of the client.
You can expect your portrait to be ready two to three months after the sitting if oil, and sooner if it is a drawing.
Contact Avril Thomas for a portait now!
Follow Portrait Artist Avril Thomas on fb