In 2009 Avril Thomas worked as artist-in-residence in Operating Theatres, Flinders Medical Centre in South Australia. The aim of the project was to capture portraits of a variety of staff members and to provide a rare glimpse inside an operating theatre through the eyes of an artist. The artwork profiles staff at work, highlighting the technical skill, concentration and precision involved in a surgical operation. 10 surgeons and staff took part.
The residency culminated in an exhibition in the FMC Promenade Gallery A.
ABC Stateline TV video on the show 
Avril Thomas is an Australian portrait Artist. Her studio and gallery is now at Magpie Springs in the Fleurieu Peninsula / Adelaide Hills. South of Adelaide
The Theatre Works Collection
Notes:-
Artist note:- The arts(visual, theatrical or Musical have the power to transport you or remove you even for a moment. How necessary this can be in a hospital situation, where people are dealing with such a huge range of emotions and challenges.
Theatre staff are hidden, working behind closed doors. This exhibition celebrates the dedication and hard work of the staff who work in theatre. As a former nurse, this project was perfect for me.
This exhibition is about teamwork, so I need to thank the team who participated in and embraced the artist-in-resdidence project at Flinders Medical Centre.
In particular the Arts in Health at FMC team Sally Francis, Lara Merrington and Louise Byrne, who work hard to bring the arts in all its forms into the hospital.
A Special thanks to Lea West, Manager – Operating Theatres and the wonderful staff who work in the Operating Theatres who allowed me back into their world.
Surgeons:-
Dr David Wattchow – Gastro Intestinal Surgery. Dr Jay McGavigan – Obstetrics. Dr Sam Barnett – Ear Nose and Throat. Dr John Freeman – Pediatrics. Dr Justin Bessell – Upper Gastro Intestinal Surgery. Dr Rob Padbury – Liver Transplant. Dr Mathew McDonald – Neurosurgery. Dr Phill Griffin – Plastic Surgery. Dr Rudi Jaasmar – Trauma Orthopaedic Surgery. Dr Robert Foreman – Vascular Surgery.
…………..
"As Artist-in-Residence. Operating Theatres, Flinders Medical Centre Avril Thomas has sympathetically doccumented the intense world of the operating theatre. In small portrait sketches, group paintings and in large scale, bird's eye views. Avril portrays the expertise, teamwork and humanity of surgical teams at Flinders. While staff members are represented as recognisable portraits. Avril respects patient anomyity. That patients are at the heart of everyone's concern, however is expressed through the group compositions, the artist's traditional use of restricted palette to create a sense of calm and seriousness and the complementary descriptive titles of many works.
This is an impressive and inspiring body of work and I congratulate Avril and everyone at Flinders Medical Centre, who helped to make her residency a success" John Hill – Minister assisting the Premier in the Arts
"I believe the concept of an Artist -in- Residence in Operating Theatres is quite to unique to Australia and thanks to Sally Francis and Arts in Heath at FMC we were given this opportunity at Flinders Medicle Centre. Theatre staff work behind closed doors and generally most people are unaware of the care they give to patients. Probably only someone who has workded in the Operating Theatre would be able to identify the focus and dedication with which patients are cared for during this most vunerable of times. Avril has both this background, and also considerable skill as and artist, and the outcome is a set of work that both recognises and highlights this exceptional care.
Works of art are intended not only to capture a scene, but to evoke emotion about the events recorded. In this series of paintings and sketches we see the essence of the Operating Theatres at the Flinders Medical Centre. This essence is teamwork and camaraderie. We also see her the strong element of humanity coming through an obviously technical and sterile environment. Staff personalities are evedent from behind the basks and gowns.
It has been a pleasure to be involved in this project and to experience the positive effects on all staff when they see their hard work acknowledged and celebrated pubicly in this way.
Thank you Avril and Sally for making this happen for us."
Lea West and David Wattchow – Operating Theatres, Flinders Medical Centre.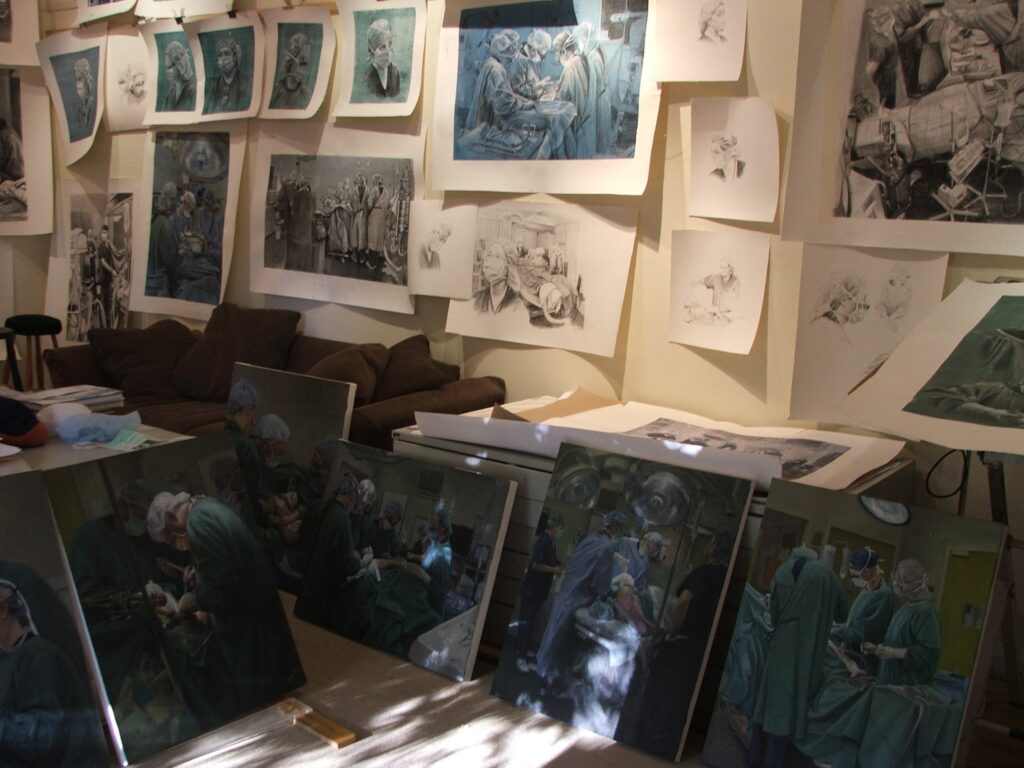 Avril Thomas on facebook Avril Thomas Art
On Instagram as Magpie Springs
On Pinterest as Magpie Springs
Magpie Springs on facebook
Art prints for Sale
Affordable art for sale